Korematsu v. United States, 323 U.S. 214 (1944) Justice Owen Roberts, Dissenting (Part 2)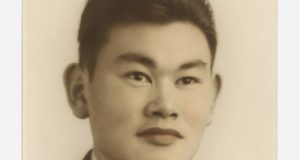 On March 2, 1942, the petitioner, therefore, had notice that, by Executive Order, the President, to prevent espionage and sabotage, had authorized the Military to exclude him from certain areas and to prevent his entering or leaving certain areas without permission. He was on notice that his home city had been included, by Military Order, in Area No. 1, and he was on notice further that, at sometime in the future, the Military Commander would make an order for the exclusion of certain persons, not described or classified, from various zones including that, in which he lived.
March 21, 1942, Congress enacted [n3] that anyone who knowingly
shall enter, remain in, leave, or commit any act in any military area or military zone prescribed . . . by any military commander . . . contrary to the restrictions applicable to any such area or zone or contrary to the order of . . . any such military commander
shall be guilty of a misdemeanor. This is the Act under which the petitioner was charged.
March 24, 1942, General DeWitt instituted the curfew for certain areas within his command, by an order the validity of which was sustained in Hirabayashi v. United States, supra.
March 24, 1942, General DeWitt began to issue a series of exclusion orders relating to specified areas.
March 27, 1942, by Proclamation No. 4, [n4] the General recited that
it is necessary, in order to provide for the welfare and to insure the orderly evacuation and resettlement of Japanese voluntarily migrating from Military Area No. 1, to restrict and regulate such migration, and ordered that, as of March 29, 1942,
all alien Japanese and persons of Japanese ancestry who are within the limits of Military Area No. 1, be and they are hereby prohibited from leaving that area for any purpose until and to the extent that a future proclamation or order of this headquarters shall so permit or direct. [n5]
No order had been made excluding the petitioner from the area in which he lived. By Proclamation No. 4, he was, after March 29, 1942, confined to the limits of Area No. 1. If the Executive Order No. 9066 and the Act of Congress meant what they said, to leave that area, in the face of Proclamation No. 4, would be to commit a misdemeanor.
May 3, 1942, General DeWitt issued Civilian Exclusion Order No. 34 [n6] providing that, after 12 o'clock May 8, 1942, all persons of Japanese ancestry, both alien and nonalien, were to be excluded from a described portion of Military Area No. 1, which included the County of Alameda, California. The order required a responsible member of each family and each individual living alone to report, at a time set, at a Civil Control Station for instructions to go to an Assembly Center, and added that any person failing to comply with the provisions of the order who was found in the described area after the date set would be liable to prosecution under the Act of March 21, 1942, supra. It is important to note that the order, by its express terms, had no application to persons within the bounds "of an established Assembly Center pursuant to instructions from this Headquarters . . ." The obvious purpose of the orders made, taken together, was to drive all citizens of Japanese ancestry into Assembly Centers within the zones of their residence, under pain of criminal prosecution.
The predicament in which the petitioner thus found himself was this: he was forbidden, by Military Order, to leave the zone in which he lived; he was forbidden, by Military Order, after a date fixed, to be found within that zone unless he were in an Assembly Center located in that zone. General DeWitt's report to the Secretary of War concerning the programme of evacuation and relocation of Japanese makes it entirely clear, if it were necessary to refer to that document — and, in the light of the above recitation, I think it is not, — that an Assembly Center was a euphemism for a prison. No person within such a center was permitted to leave except by Military Order.