Juvenile Searches and Seizures by School Administrators – Sherman & Plano, TX Criminal Defense Lawyer (Part 1)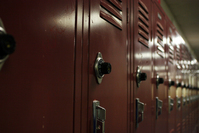 All of us have had the experience of being called to the principal's office. Well, most of us. Many juvenile delinquent conduct investigations begin this way, with a call and questioning by the principal, a search of a student's locker or purse, or a pat down of a student suspected to be in contraband. Our first thought as Americans would assume that a student at a school has the same Fourth Amendment protection against unreasonable searches and seizures as an adult, but that isn't quite so. The Supreme Court directly addressed this issue in New Jersey v. T.L.O., 469 U.S. 325.
In T.L.O., a principal had searched a student's purse and found marijuana, cigarettes, money and drug notes after information from a teacher that the student was smoking cigarettes in the bathroom and in possession of cigarettes against school rules. The Supreme Court upheld the search, stating that different standards apply to searches of students by school officials than searches by police and held:
"We join the majority of courts that have examined this issue in concluding that the accommodation of the privacy interests of school children with the substantial need of teachers and administrators for freedom to maintain order in the schools does not require strict adherence to the requirement that searches be based on probable cause to believe that the subject of the search has violated or is violating the law. Rather, the legality of a search of a student should depend simply on the reasonableness, under all the circumstances, of the search. Determining the reasonableness of any search involves a twofold inquiry: first, one must consider 'whether the …action was justified at its inception…; second, one must determine whether the search as actually conducted was 'reasonably related in scope to the actual circumstances which justified the interference in the first place.'"
"Under ordinary circumstances, a search of a student by a teacher or other school official will be 'justified at its inception' when there are reasonable grounds for suspecting that the search will turn up evidence that the student has violated or is violating either the law or the rules of the school. Such a search will be permissible in its scope when the measures adopted are reasonably related to the objectives of the search and not excessively intrusive in light of the age and sex of the student and the nature of the infraction."
Thus, administrators just need reasonable grounds for believing they will find evidence of a crime or school rule violation, and their search must be reasonably related in scope to the object of the search and the age/sex of the student.